Monday, August 30, 2010 at 5:17PM
I like Nana. A lot!
I don't like, snow. A LOT!
I like Ox. And I like to sleep with a tea-towel over my gimongous head.
I don't like keeping my socks on. Ever.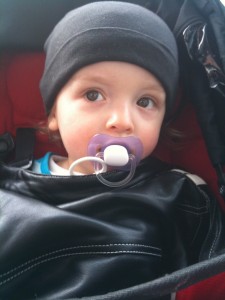 Food. Wow, I like food. Any food. Now please. Any hint of 'food' illicits a deep and abiding, "oooooh!" followed by a baby stampede.
I don't like food with random lumps in it.
I like my highchair (cause that's where I get the most food).
I don't like being taken out of my highchair if I have not had enough of the aforementioned.
I like anything with wheels. Anything noisy and anything your currently holding.
I don't like you getting in my way.
I like it when my brother is at kinder.
I don't like it when we
take
him to kinder but then leave without him.
I like the wholemeal CheesyMite rolls from Bakers Delight in Clifton Hill. I can eat a whole one!
I don't like cake.
I like my bike and my trucks. They're noisy and fun and I can pull them apart. I like to dance with ALL my rhythm. (Like my
brother
, Play That Funky Music, White Boy)
I love my brother, he's funny. I like baths, they're splashy! And I like my to hold my own bottle while I watch PlaySchool before bed.
Mostly, I love it when my Daddy comes home. I throw my arms up and say, "Yay!"
And did I mention my distaste for the white fluffy stuff? Oooh that stuff sucks.

Here's my brother's stats from
roughly the same age. We're pretty close on milestones. I'm bigger, taller, louder and my head is waaaay more humongous! Granted, Spike was more verbal and social. But we both have curls to die for and smiles that stop traffic. We're good at routines and both excellent at unarmed combat.
Mum
hates a list of thing but what's she gonna do about it? I'm 16 months old fercrissakes!
Mo (as dictated to the parental unit) xo
Miss Itchy
|
5 Comments
|