Tuesday, June 6, 2006 at 5:35AM
We had our 23 week ultrasound today and as you can see, this kid is so perfect it makes me want to vomit!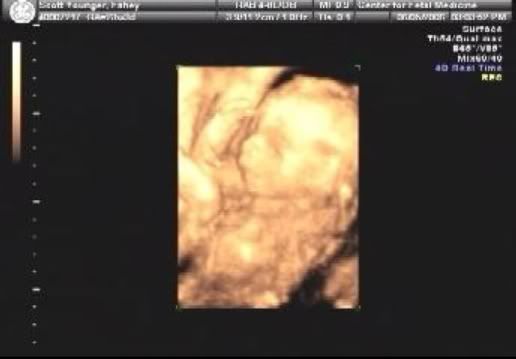 10 toes, 10 fingers, 4 chambered heart, 1 big brain and 4 extra long limbs all present and accounted for. It's about a foot long (like the hot dog) and weighs in at an estimated 1.5lbs. That doesnt explain why I've put on MORE than 1.5lbs - the baby must be redecorating with heavy paint and fabrics.
We're still keeping the flavour a secret - boy? Girl? Italian Greyhound? Time will tell.
California weather is starting to hot up - just in time to remind me how much I hate California weather. I know it's been nice and cool in Melbourne - I have a weather stream program on my computer and every now and then it pops up and says, "It's only 4.C and foggy, dont you want to go home?" Yes, yes I do.
Or perhaps to New York. Maybe London? Verkhoyansk in Siberia seems a little extreme - even for me. 100 below zero might be a little TOO cold. Ok - Melbourne it is! We'll be home soonish. August? Thereabouts?
Lucky new babies are portable - and I know, there is NOTHING more welcome than getting on a long haul flight and seeing the person in front/beside/within ear shot of you has a tiny pink human. Woohoo! "Air waitress, I'll have ALL the booze in your little carty thing, please..."
Til nex time. Us xxxx
in
Baby Stuff